2ND FIWARE SUMMIT: GROWING GLOBAL TOGETHER
The 2nd FIWARE Summit, hosted by the city of Utrecht and the FIWARE Lab Netherlands, from Monday 29th to Wednesday 31st of May, has been the prime event organized by an enlarging FIWARE Foundation: with multinational corporation NEC as the fifth Platinum member, joining Atos, Engineering, Orange and Telefonica as the core constituents of the Foundation.
During three days, the Summit gathered 320 attendees and up to 85 speakers, from inside and outside the FIWARE community. 29 countries were represented there. 15 exhibitors showcased their devices, their digital solutions and services at the Media Plaza. The event brought knowledge and hands-on experience around FIWARE through 28 technical sessions and numerous panels, conferences and community meetings.
More than 40% of the audience was part of the Dutch entrepreneurial and innovation ecosystem, showing the commitment of the area and the city with FIWARE. Aiming to create an open smart city model, based on the needs of the market, seven cities on the Netherlands have joined the Open and Agile Smart Cities Initiative: Amersfoort, Amsterdam, Drechsteden, Eindhoven, Enschede and Utrecht are betting on FIWARE standards. They all share data portals to ease the re-usage and publication of open data, creating a complete ecosystem that connects cities, business and knowledge.
FIWARE Lab Netherlands, located in Utrecht and Amersfoort, started its activity only two years ago, but it is now well established within the region and the community, running different projects focused on the usage of open data to cooperate in local smart city programmes. It is really great to see this framework, widespreading to other communities in one of the most prosperous areas of Europe.
After a week collecting the figures, the pictures and the presentations, it is now time to go back there, to gather and share some of the vibrant insights that the event has passed on to us.
Cooperation to achieve competitiveness
Collaboration, co-creation and partnership have been the main topics to address the digital transformation in multiple sectors, from a human-centric perspective. In Utrecht, we met some of the FIWARE main partners: Joao Rodriguez-Frade, from CEF Digital and the European Commission, updated on the ongoing collaboration with FIWARE, breaking the silos and enabling digital interactions across sectors. Carl Piva, from TM Forum, elaborated on the vision of the city as a platform and the importance of connecting business models with open architectures and APIs
Working groups and keynotes presented and openly discussed different strategies on how to build a smart city models. We had the chance to meet Deloitte's Capability Framework and Maturity Model. The TM Forum & FIWARE Frontrunner Smart Cities Workshop gathered different cities that are ahead of this maturity process, like Santander, Bristol, Utrecht, Niza, Tokio or Heidelberg.
From entrepreneurial projects to the Mayor office, a lot of urban development projects were presented. Frans Jorna, Theme Director Smart City of the City of Utrecht, talked about transformation and the need for open city innovation platforms. Ubiwhere presented their FIWARE-based city architecture, a smart solution easing the coordinated management of services for different verticals. Paolo Traverso shared the priorities of the city of Trento, to build an open government with open access to information, simplified access to public services, citizen engagement and enabling co-creation within a no city lock-in approach.
Cities, factories, food (and beyond)
Carl Hans, from FTI Engineering Network GmbH, explained how FIWARE can support smart product-service design in a sector as diverse as aviation. Thanks to standardised interfaces for service provision and using reliable, well-tested software components, the efforts developing a product could be reduced. Also the risks concerning its obsolescence or availability.
Towards an International Data Space
Lars Nagel, Managing Director of the Industrial Data Space Association, presented the basis and roadmap of this very new initiative, that is already planning on rename itself as International Data Space, due to the cross sector, global reaching nature of its proposed framework for gathering, processing, exchange and monetizing of data among systems coming from different application domains (banking, manufacturing, logistics, smart cities).
The IDS Architecture and FIWARE Architecture are significantly aligned, therefore the FIWARE Foundation and IDS have agreed on a partnership and the work has started for the first open source based implementation of the IDS concepts based on FIWARE.  The results will be showcased at the IoTSWC early October in Barcelona.
Acceleration and funding to keep scaling-up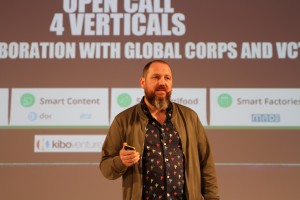 FIWARE accelerators shared their numbers: IMPACT Growth will select 14 startups from 1.932 applications, from which 710 were completed and submitted. The programme offers 3.6 million euros of equity-free funding. The selected startups will be able to start participating in the different events organised by the 4YFN platform. A second call will open for applications on September 5, 2017, and will select another 14 startups.
Among IMPACT Growth four verticals and frontierCities2 MAG and FI-TECH Grants, powered by FIWARE open calls have reached more than 80 countries, receiving more than 2K applications. Our community is an active vehicle for financing innovative projects: Miguel García, from Zabala Consulting, explained how powered by FIWARE startups are in a great position to accede a wide array of funding opportunities, from Horizon 2020 and beyond, highlighting tools like the SME Instrument or the Cascade Funding models.
Acting local. Growing global.
FIWARE Mundus committee leader, Jacques Magen, described the recent, on course and future activities and events, at an international level. Powered by FIWARE projects continue spreading in North America, Latin America, Africa and Asia, thanks to the Mundus team shared efforts. A first Canadian workshop, focused only in FIWARE have taken place. The Ontario Precision AgriFood Association starting local pilot trial that, eventually, will be leading to a commercial deployment and to the set-up of a FIWARE instance there. A challenge for pilot trials for smart cities will be announced shortly and will be presented at the Global City Teams Challenge Expo 2017, on August in Washington D.C.
A platform, a community and a global marketplace
Announced at the previous Summit, a pivotal tool to the advancement of FIWARE was presented in Utrecht. To grow as an ecosystem and to achieve the marked objectives for the platform, the FIWARE Marketplace is designed to be one-stop shop for every project and deployment based on our open source technology, a useful tool to engage with and to enlarge our community. Juanjo Hierro, CTO of the Foundation, and Mayte Carracedo, from FundingBox, showed the already active webpage: every solution, device, service or deployment based on FIWARE is invited to join in and profit from it, meeting other projects, refining their offering and reaching new clients internationally.
After Utrecht. An towards Málaga (again)
"Everything that could be connected will be connected. Everything that could be digitized and transformed into data sets will be digitized and transformed into data sets. And everything that could be automated will be automated". Everything will be transformed and FIWARE is the open source, IoT-enabled platform that lets you join this change.
Ahle also made an important announcement: the next FIWARE Summit already have a location and a date: we are excited to go and gather in Málaga again this autumn, from November 27th to 29th.
We can say it loud and proud: the 2nd FIWARE Summit has been another big success! Thank you!
We keep moving forward thanks to all our community members and partners. A special thanks goes out to our sponsors: KPN, Deloitte, EBU, the Utrecht Region and the FIWARE Lab NL.
Utrecht was great! See you all in Málaga!
Post originally published in FIWARE blog